MapR Technologies Inc. today announced a small-footprint edition of its data platform designed to take Big Data analytics closer to the source -- in this case the edge of the rapidly growing Internet of Things (IoT).
The company, often characterized as one of the top three distributors of Apache Hadoop-based Big Data solutions, is perhaps best known for its Converged Data Platform. The company says it "integrates Hadoop, Spark, and Apache Drill with real-time database capabilities, global event streaming and scalable enterprise storage to power a new generation of Big Data applications."
It's that platform that has been slimmed down into a small-footprint edition called MapR Edge.
MapR said its approach of bringing MapR Edge to close proximity to IoT devices -- constantly spewing sensor and machine- and system-generated data -- provides an advantage over two commonly used approaches today. Those are deploying full-scale clusters at each IoT Training site (which doesn't work well in constrained spaces like automobiles), or sending IoT-generated data to a central cluster (which the company said doesn't work in limited bandwidth/connectivity scenarios).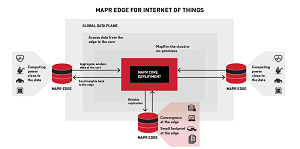 MapR Edge for IoT (source: MapR Technologies)
"MapR Edge offers a better, more optimal solution," the company said in a statement today. "With a small footprint and reliable replication capabilities, MapR Edge is ideally suited for space- and bandwidth-constrained environments. Used in combination with a core MapR Enterprise deployment (on-premises or in the cloud), MapR Edge empowers organizations to securely process data locally, quickly aggregate insights on global basis, and ultimately push intelligence back to the edge for faster and more significant business impact."
Key features of the approach listed by the company include:
Distributed data aggregation: Provides high-speed local processing, especially useful for location-restricted or sensitive data such as personally identifiable information (PII), and consolidates IoT data from edge sites.
Bandwidth-awareness: Adjusts throughput from the edge to the cloud and/or datacenter, even with occasionally connected environments.
Global data plane: Provides global view of all distributed clusters in a single namespace simplifying application development and deployment.
Converged analytics: Combines operational decision-making with real-time analysis of data at the edge.
Unified security: End-to-end IoT security provides authentication, authorization, and access control from the edge to the central clusters. MapR Edge also delivers secure encryption on the wire for data communicated between the edge and the main data center.
Standards-based: MapR Edge adheres to standards including POSIX and HDFS API for file access, ANSI SQL for querying, Kafka API for event streams, and HBase and OJAI API for NoSQL database.
Enterprise-grade reliability: Delivers a reliable computing environment to tolerate multiple hardware failures that can occur in remote, isolated deployments.
"The use cases for IoT continue to grow, and in many situations, the volume of data generated at the edge requires bandwidth levels that overwhelm the available resources," the company quoted 451 Research analyst Jason Stamper as saying. "MapR is pushing the computation and analysis of IoT data close to the sources, allowing more efficient and faster decision-making locally, while also allowing subsets of the data to be reliably transported to a central analytics deployment."